Spinal cord injuries are some of the most severe and traumatizing injuries a person can face. If you recently suffered a spinal cord injury, you may be facing a lifetime of care, the need to relearn basic skills, a long recovery period, and exorbitant medical expenses. However, you should not have to bear the burden of someone else's negligence alone. A personal injury lawyer at The Law Office of Edward W. Sampson is ready to stand by you. A Plano spinal cord injury attorney can fight for the fair compensation you deserve after being injured in a car accident, truck accident, or any other incident. Contact or call us today at (214) 617-3223 for a free, no-risk consultation.
Spinal Cord Injury Resources
Most Common Causes of Spinal Cord Injuries
Some of the most common causes of spinal cord injuries include:
Car accidents – Motor vehicle accidents are the most common cause of spinal cord injuries. The Mayo Clinic reports that nearly half of all new spinal cord injury cases are due to motor vehicle accidents.
Truck accidents – Because trucks are so much larger than other types of vehicles, accidents involving them usually cause much more severe injuries, including spinal cord injuries.
Falls – Slips and falls are responsible for about one-third of spinal cord injuries each year.
Defective products – Defective consumer products like faulty seatbelts, airbags, and medical devices can also cause spinal cord injuries.
Violent acts – Approximately 15% of spinal cord injuries are due to acts of violence.
Symptoms of Spinal Cord Injuries
Some signs and symptoms of spinal cord injuries may include:
Pain or pressure in the neck, head, or back
Numbness in the extremities
Balance problems
Difficulty moving or lack of movement in any part of the body
Weakness in any part of the body
Loss of bladder or bowel function
Sexual dysfunction
Difficulty breathing
Lack of sensation
Spasms
If you are experiencing any of these symptoms after an accident, seek immediate medical attention so that you receive prompt treatment and help build your claim for compensation.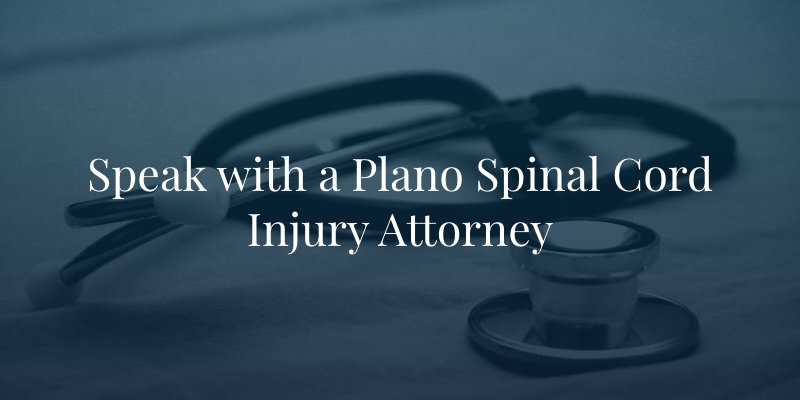 Treatment of Spinal Cord Injuries
There are different types of spinal cord injury treatment. The particular treatment you receive will depend on whether your injury is classified as an incomplete or complete spinal cord injury, as well as your overall health and your doctor's recommendations. Some of the most common types of treatment for spinal cord injuries include:
Surgery
Traction
Steroid medications
Other medications
Physical therapy
There may also be experimental treatments that are available to help prevent cell death and regenerate nerves.
Spinal cord injuries are often catastrophic. The sad reality for many spinal cord injury victims is that many victims do not make a full recovery. This is why it is so critical to obtain the compensation you need to move forward with your life as best as you are able.
Compensation for a Spinal Cord Injury
Texas law allows you to recover compensation for the losses you suffer, which may include:
Past medical expenses and future anticipated medical treatment
Lost wages and earning capacity
Loss of household services
Home modifications to accommodate your injuries
Loss of enjoyment of life
Loss of companionship
Pain and suffering and emotional trauma
Modifications of the home
A skilled Plano personal injury attorney can review your claim and determine what compensation may be available.
Contact a Plano Spinal Cord Injury Lawyer
If you suffered a spinal cord injury, it is critical that you contact an experienced Plano spinal cord injury attorney as soon as possible. You have a limited time to make a claim and your lawyer will need to investigate to determine all potentially liable parties and sources of compensation. Contact or call The Law Office of Edward W. Sampson at (214) 617-3223 for your free case review.