Motorcycle accidents can be incredibly traumatic, and if you're not sure what to do afterward, it's important to seek help from an attorney. An experienced motorcycle accident attorney can guide you through the legal process and help ensure that you receive the compensation you deserve for your injuries. With the help of an experienced Plano motorcycle lawyer, you can focus on recovering from your injuries while they take care of everything else. Contact us today to schedule your free consultation. 
Motorcycle Accident Resources
Common Injuries From Motorcycle Accidents
Motorcycle accidents can often result in serious injuries, due to the lack of protection that riders have. Some of the most common injuries include:
Broken Bones
Broken bones are one of the most common injuries in motorcycle accidents, as the human body is not designed to withstand the force of a collision. 
Road Rash 
This occurs when the skin comes into contact with the pavement and can often be very severe. 
Head Injuries
Head injuries are also common in motorcycle accidents, as many riders, unfortunately, do not wear helmets. Head injuries can range from concussions to traumatic brain injuries and can often be life-threatening.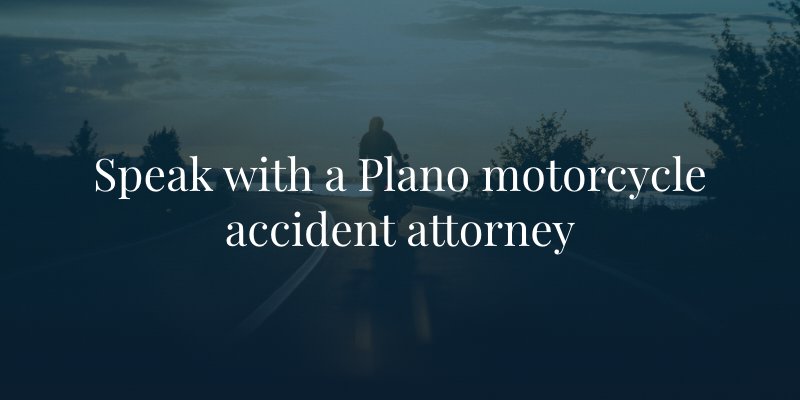 How a Plano Motorcycle Attorney Can Help After an Accident
An experienced motorcycle attorney can help guide you through the legal process and ensure that your rights are protected. Motorcycle accidents often result in serious injuries, and you may be facing mounting medical bills and lost wages. Your Plano personal injury lawyer will fight for compensation for your damages, including medical expenses, pain and suffering, and lost income. 
In addition, an attorney can help investigate the accident and hold the responsible parties accountable. If you have been in a motorcycle accident, don't try to navigate the legal system on your own. Contact an experienced attorney to discuss your case.
Contributory Fault in Texas – You can Recover Damages Even If You're Partially Responsible
Texas motorcycle accidents are governed by contributory fault. This means that you can recover damages even if you're partially at fault. However, if it's determined that you are more than 50% responsible, you will be barred from recovering any compensation for the accident, regardless of how severe your injuries are. If you are 50% or less at fault, your damages will be reduced by your percentage of responsibility. 
Statute of Limitations For Motorcycle Accidents in Texas
In Texas, the statute of limitations for personal injury claims is two years. This means you must file your claim within two years from the date of your injury. 
While two years may seem like a long time, it's important to remember that investigating and building a strong personal injury case can take time. As soon as you are able, you should contact a qualified auto accident injury attorney who can begin working on your behalf. The sooner you take legal action, the better your chances of recovering the compensation you deserve.
What Makes The Law Office of Edward W. Sampson Different?
Attorney Edward W. Sampson has been practicing law for more than 10 years, which means he has the experience and expertise needed to handle your case. But more than that, Attorney Sampson is known for his tenacity in and out of the courtroom.
The Law Office of Edward W. Sampson is not a volume-based firm that takes on as many cases as possible. Instead, the focus is on quality over quantity. This means that all cases are carefully reviewed to ensure that it is a good fit for the firm. We only take on cases that we believe in and that we think we can win.
This approach allows us to provide the best possible service to our clients. We are able to dedicate more time and resources to each case, which gives us an edge in the courtroom. 
Contact The Law Office of Edward W. Sampson today to schedule a free consultation.