If you have been hurt in a car crash, truck accident, or other personal injury incident caused by someone else's negligence, you may be entitled to compensation for your medical expenses, lost wages, and pain and suffering. However, you cannot count on the insurance company to do the right thing and pay you what you deserve. It is highly recommended that you hire a qualified Plano personal injury attorney. For over 25 years, Edward W. Sampson has helped hundreds of injured Texans in Dallas, Plano, and nearby areas get the financial recovery they need.
Founded by Mr. Sampson, The Law Office of Edward W. Sampson focuses exclusively on personal injury cases. We provide direct legal representation to clients who are facing insurance companies that want to deny, delay or undervalue their valid claims. We are ready to fight for you and protect your rights. Contact us or call (214) 617-3223 today to set up a free case review with one of our Plano personal injury lawyers.
Plano Personal Injury Resources
What Types of Personal Injury Cases Do We Handle?
The Law Office of Edward W. Sampson is a full-service personal injury law firm. We handle various types of personal injury cases, including:
Car Accidents
Our legal team helps car accident victims recover compensation after they were harmed by negligent drivers who caused their injuries because of:
Speeding
Impaired driving
Distracted driving
Fatigued driving
Road rage
Careless driving
You should not have to pay the consequences of someone else's negligence. Our law firm can conduct a thorough investigation, gather evidence to establish liability, and handle communication with the insurance company on your behalf. You just focus on your recovery, and your Plano car accident lawyer can handle the rest.
Truck Accidents
Truck accidents tend to cause more severe injuries than other types of motor vehicle accidents because they are so much larger than passenger vehicles. While commercial trucks make up a smaller percentage of registered vehicles, they are disproportionately involved in fatal accidents.
Unfortunately, many truck accidents are caused by the negligence of truck drivers and the companies that employ them. Trucking companies are paid by the load, so they have the incentive to encourage drivers to make deliveries faster, speed, and take shortcuts with safety. When they take these actions, disastrous results often occur. However, our Plano truck accident attorneys strive to right their wrongs toward victims.
Product Liability
Our firm also handles cases involving defective products, including transvaginal mesh and IVC filters. These types of medical products are supposed to help people, but when manufacturers are not careful with the design and manufacture of products, unsuspecting consumers may be harmed by them and endure physical and emotional damages, as well as, potentially hefty medical expenses. However, you can trust that our Plano injury lawyers will fight for a favorable outcome and receive the verdict award you deserve.
Wrongful Death
We also help injured family members and loved ones of personal injury victims who have died due to the negligence of others. No amount of financial recovery can ever give the family real peace when they know their loved one's death was due to someone else's carelessness and could have been prevented. However, holding another party accountable and ensuring they make up for the economic losses caused by their negligence can provide a degree of justice the surviving family so desperately needs and deserves.
For any of these types of cases, turn to our board-certified Plano wrongful death lawyers. We have the knowledge and skill to pursue the verdict award you deserve.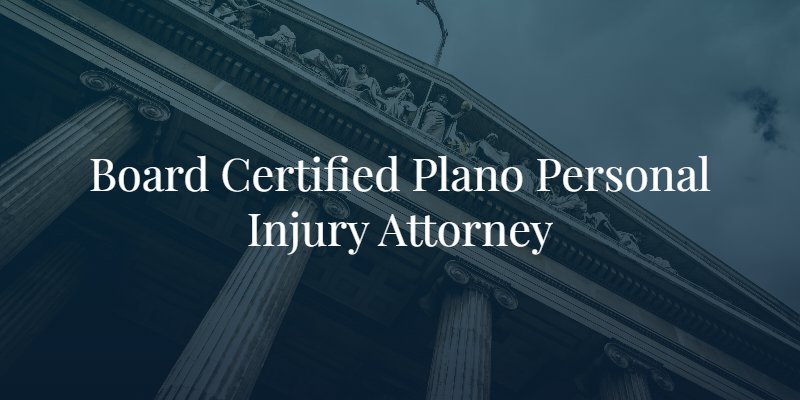 Common Injuries in Personal Injury Cases
Our Plano personal injury law firm represents injured Texans who have suffered severe injuries due to the negligence of individuals and corporations. Personal injury victims may suffer various types of injuries that are both unexpected and catastrophic. We can help people who have suffered the following types of injuries:
Vital organ injuries
Back and neck injuries
Arm and leg injuries
Fractures
Soft tissue injuries
Regardless of how you were injured, The Law Office of Edward W. Sampson is committed to helping you recover fair compensation. Contact us today for a free consultation of your case.
What to Expect when Filing a Personal Injury Claim
Sustaining an injury, whether it is from a car accident, slip, and fall, or any other situation, can be a traumatizing experience. Expenses related to medical bills, lost wages, and other costs that come with the injury can accumulate quickly. Understanding the process of filing a personal injury claim is crucial for several reasons. 
First, you'll be better prepared for what to expect throughout the legal proceedings. Additionally, understanding the process means that you'll be able to communicate effectively with your lawyer. Ultimately, understanding the procedure enables you to make well-informed choices throughout the process. Here are a few necessary steps for filing a personal injury claim: 
Collecting Evidence
The first step in filing a personal injury claim is to gather evidence. This involves documenting the accident scene, taking pictures of your injuries, collecting witness statements, and preserving any physical evidence that may support your case. 
It is important to obtain a copy of the police report and any medical records related to your injuries. The collected evidence will be vital for proving your case in the future, so gathering as much proof as possible is crucial.
Filing The Claim
After collecting evidence, you will need to file a personal injury claim with the responsible party's insurance company. This typically involves filling out a claim form and submitting it to the insurance adjuster. 
After submitting your claim, an adjuster will inspect and analyze the evidence provided to decide whether to accept or reject it. If the adjuster accepts your claim, they will likely offer you a settlement amount. However, if they deny your claim, you may need to proceed with legal action by hiring a personal injury attorney.
Settlement Offer
When faced with a settlement offer from an insurance company, it is critical to approach the situation with careful consideration. Negotiating the terms of a settlement can be unsettling, but it is essential to ensure that you receive the compensation that you are entitled to. It can be helpful to consult with a skilled personal injury lawyer to assess the offer and allow them to assist you in navigating the negotiation process.
During this process, it is crucial to remain patient and avoid settling for an amount that is less than what you deserve.
Trial
If negotiations fail, and you cannot reach a fair settlement with the insurance company, you may need to go to trial. This involves presenting your case to a judge or jury and allowing them to decide the outcome. While going to trial can be challenging and time-consuming, it may be necessary to ensure that you receive the compensation you deserve.
What You Must Prove to Win Your Plano Personal Injury Case
Most personal injury cases are based on the legal principle of negligence. Negligence basically boils down to failing to exercise the required degree of care necessary to avoid injury to others. For example, a driver who makes the risky decision to speed or text while driving may be negligent and responsible for any accident they cause.
An experienced lawyer can help establish your negligence claim by:
Identifying all liable parties
Establishing the defendant's duty of care and how they breached it
Evaluating your situation and giving you an honest assessment of your case
Gathering supporting evidence of your case, such as accident reports, medical records, and witness statements
Retaining expert witnesses to help establish your claim if necessary
Maximizing the potential value of your claim
Filing claims with all applicable insurance companies
Providing legal representation in negotiations or at trial
While most personal injury cases are ultimately resolved through a settlement, there are some times when the insurer fails to make a reasonable offer or take the threat of litigation seriously. That is when you need a lawyer who is Board Certified in Personal Injury Trial Law by the Texas Board of Legal Specialization, such as Edward W. Sampson. This distinction shows our adversaries that we are serious about optimizing your financial recovery in our pursuit of justice.
What is The Statute of Limitations For a Personal Injury Claim in Texas?
In Texas, the statute of limitations is two years: "…a person must bring suit for trespass for injury to the estate or to the property of another, conversion of personal property, taking or detaining the personal property of another, personal injury, forcible entry and detainer, and forcible detainer not later than two years after the day the cause of action accrues."
Financial Compensation for Personal Injury Victims
After an injury, you may expect the insurance company to do the right thing and pay you fair compensation after you are injured by their insured's careless actions. However, we have found that, in many cases, insurance companies want to take advantage of the situation and deny or minimize the claim as much as possible.
At The Law Office of Edward W. Sampson, our team helps protect your right to fair financial compensation after being injured by the negligent actions of others. We understand that your injuries may have permanently affected your life. You may be facing ongoing pain, years of recovery, and significant financial hardships. We can fight for every dollar you deserve for:
Medical expenses you have already incurred and anticipate incurring in the future
Lost or reduced earning capacity
Property damage repairs
Pain and suffering
Contact Our Experienced Plano Personal Injury Attorney
If you were injured in a car accident, truck accident, or defective product accident in Plano or you recently lost a loved one in an accident of this nature, reach out to The Law Office of Edward W. Sampson for help. Contact us or call us today at (214) 617-3223 for a free case review to discuss your legal rights and options with an experienced Plano personal injury attorney.